I'm always looking for creative ways to engage others in my passion for watercolor painting.
I've given private and small-group lessons for a number of years but stopped because I found that my prep time for teaching too often depleted the precious time that I have to apply paint to paper for my own projects.
But I do miss the interaction with other painters, so I've come up with an idea that I'm calling "Paint with Karen!" I will mail you materials that allow you to paint along with line drawings (printed on high-quality watercolor paper) of my painting Victorian Turrets. The package includes a color copy of my original painting for reference and inspiration. I have uploaded a series of video tutorials on my YouTube Channel–Karen Gutliph Graves to instruct you on technique. Check them out!
You can "paint" the images with whatever mode you choose–watercolor, acrylics, pastels, colored pencils or magic markers. Step-by-step videos have been created using watercolor. You will be amazed at how easy and fun painting can be.
The cost is $30 for the first paint-with-Karen kit. This includes shipping to the US and sales tax. The subject is a regal Victorian mansion in my hometown with colorful hollyhocks in the foreground. Here is the image you will be painting.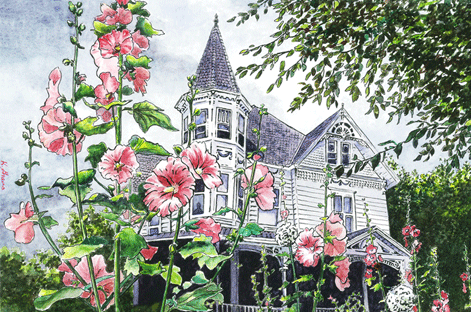 You'll work from a line drawing of the same image.
This makes a great gift for adult beginners (or watercolor-curious intermediates) and for kids who have an interest in drawing and painting.
Questions? What to place an order? Please email me at [email protected]. Thanks!
The following are my suggestions for art materials: note- the kit does not come with paint or brushes.